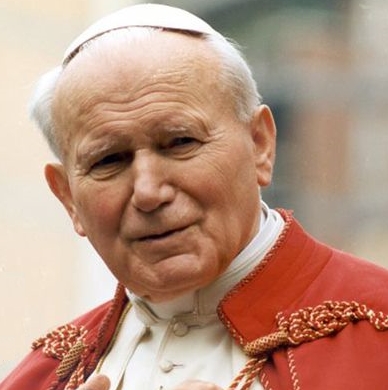 Archbishop Eamon announces event to mark 40 years since the visit to Drogheda of St Pope John Paul II.
At yesterdays Mass in Newry Cathedral to commemorate the outbreak of World War II Archbishop Eamon invited people to join him on September 29th next at 5pm to celebrate the 40th Anniversary since St John Paul II's Visit.
"Forty years ago this month, on 29th September 1979, the great Polish Pope Saint John Paul II came to Ireland on what he described as a "pilgrimage of peace". The Holy Father was stopping off in Ireland on his way to address the United Nations on the problems of peace and war, justice and human rights. At Drogheda he reaffirmed the message which he had already spoken in Mexico and Poland during the first year of his pontificate: "Each human being has inalienable rights that must be respected. Peace is threatened every time one of these rights is violated. The moral law, guardian of human rights, protector of the dignity of man, cannot be set aside by any person or group, or by the State itself, for any cause".
To mark both the visit of Pope Francis to our country one year ago, and the 40th anniversary of Pope Saint John Paul's visit, I will lead a short prayer service "For Ireland and for Humanity" on 29th September next at 5.00pm at the Papal cross near Drogheda. I invite the faithful in the Diocese of Dromore and the Archdiocese of Armagh to join me by coming together at the same time in their parishes. We will reflect on the same text which Pope Saint John Paul II used to pray for peace and reconciliation, forty years ago. On that day he concluded his address by praying that Christ the Prince of Peace, Mary, Saint Patrick, Saint Oliver Plunkett, and all the saints of Ireland would "Watch over Ireland"; "Protect humanity". It is the perfect prayer for us during these troubled and uncertain times for Ireland – north and south – and as we commemorate the beginning of World War II, eighty years ago today."